Products
Products
Our precise and durable carbide cutting tools are just
what you've wanted for an innovative tooling solution.


Saw Man-X [S Chip Breaker]
• Inserts for stainless steel and HRSA grooving and parting off
Feature
• Excellent tool life by minimizing cutting load machining M and S materials with V shaped sharp cutting edge application
• Enhanced chip control and productivity by the high feed cutting optimized chip breaker application

Saw Man-X [S Chip Breaker]
High cutting load and cutting heat while grooving and parting off stainless steel and HRSA reduce tool life. In addition, bad chip evacuation in narrow groove increases the possibility of the unexpected tool fracture.
KORLOY newly launched S chip breaker with good cutting performance and chip control for stainless and HRSA grooving and parting off.
S chip breaker minimizes cutting load with its sharp cutting edge and concaved major cutting edge. It also enhances chip evacuation by reducing cutting heat and minimizing chip width by applying a concaved groove and a variable wave-shaped design on the top surface.
Besides, the strong 3 directional V-Rail clamping system of Saw Man-X provides stable clamping and high cutting quality in stainless steel and HRSA high speed and high feed machining.
Advantages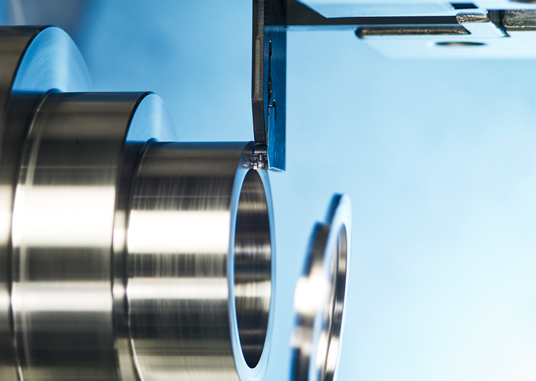 • High machinability
- Excellent machinability with the application of concave shaped major cutting edge and sharp edge
• Good chip control
- Excellent chip control with the rear bump application
• Enhanced machining quality
- Concave groove on the top surface of the insert minimizes width of chips and prevents scratches on the workpiece
• Stable tool life
- Strong 3-directional V-Rail clamping system