Products
Products
Our precise and durable carbide cutting tools are just
what you've wanted for an innovative tooling solution.


• High quality and high feed top solid indexable drill
Feature
• The optimal tool shape for drilling realizing high precision and high feed machining as of carbide solid drill performance level.
• Usable for various machining through enlarged line-up by workpieces, depth of cuts and workpiece shapes.
TPDC Plus Drill
To obtain better work efficiency, excellent machining performance and reduced cutting time are always in need for various industries. Thus, the demands for efficient cutting tools are steadily increasing.
KORLOY newly launched high quality and efficient indexable drill, TPDC Plus Drill in accordance with the market's needs.
TPDC Plus Drill realizes high speed and high feed machining due to solid and stable clamping with exclusive One step clamp structure. In addition,

replacing an insert without taking the holder out of the machine reduces tool setting time and enhances convenience and productivity.
The TPDC insert with exclusive grade applying ultrafine substrate, lubricated coating and different cutting edge per workpiece material with special after treatment ensure stable machining in various kinds of workpiece.
Besides, newly added TPDC-FC (flat type) insert applied 145° point angle and exclusive low cutting resistance cutting edge for stable machining, high precision and good surface finish increases productivity due to low cost and short cycle time.
Various types of insert could be clamped to a TPDC holder. Not just for the standard depth of cut such as 3D, 5D, and 8D, the TPDC holders expanded its lineup of 1.5D, 10D, and 12D so it could be applied to various depths of hole-making.
Advantages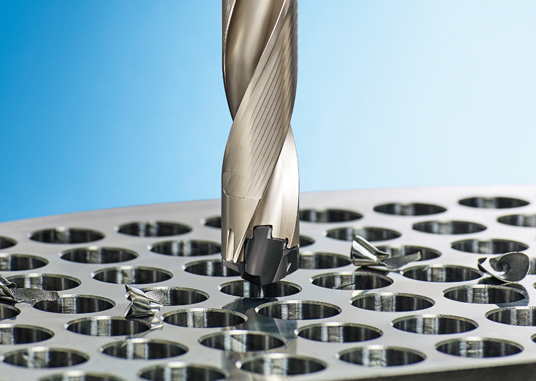 • High precision and high convenient clamping
- Applies one step clamp system
• Improved machinability
- Reduced cutting load due to high helix angle
• Stable chip evacuation
- Applied spiral oil-hole and polished flute
• Available in various cutting conditions
- Exclusive edge design per workpieces (P, M, K, N)
- Various aspect ratio (1.5D, 3D, 5D, 8D,10D, 12D)
- (For TPDC-FC) Simplified machining process
combining 2 in 1