Products
Products
Our precise and durable carbide cutting tools are just
what you've wanted for an innovative tooling solution.


• Applied Super Toughness substrate with excellent resistance to chipping and breakage, specialized for machining of hard-to-cut materials
• High-performance Ultra-CVD coated grade providing stable tool life when it comes to machining of HRSA
Feature
• Super Toughness substrate design
- Applying Super Toughness substrate design which strengthens WC-Co binding, and improves resistance to chipping and breakage and ensures stability when it comes to machining of hard-to-cut materials

• High-performance Ultra-CVD coated grade
- Provide stable tool life by preventing any unexpected tool breakage due to application of the new Ultra-CVD coating
- Increased chip evacuation due to high-hardness and highly lubricative coating
UNC805 · UNC840
HRSA such as Inconel (Waspaloy, Rene) and titanium alloy are hard-to-cut materials which have tendencies to cause work hardening and have low heat conductivity. The heat generated during the machining process affects the tools and frequently results in shorter tool life due to chipping, build-up edge, and unexpected tool breakage. In order to provide a solution for HRSA machining, KORLOY has released the new Ultra Coating grades with improved resistance to welding, chipping and wear–UNC grades, UNC805 and UNC840.
UNC805 is a S05 grade for turning. It ensures great surface finish under high-speed machining condition due to its excellent wear resistance by implementing ultra fine substrate and optimized cutting edge.
UNC840 is a S40 grade for milling. With a stronger WC-Co binding, its wear resistance is also increased. Furthermore, the feed value of cutting process can be applied 1.5 times higher than the existing products due to improved toughness.
With these features, UNC840 can maximize productivity.
Advantages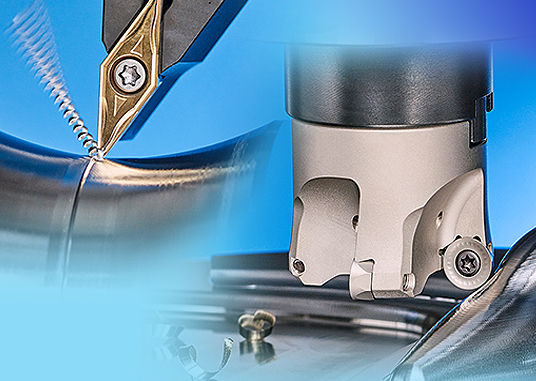 ㆍSuper Toughness substrate design
- Maximized resistance to chipping and breakage
ㆍApplied high-performance Ultra-CVD Coating
- Provide stable tool life while preventing any unexpected tool breakage
ㆍExclusive grade optimized for machining of hard-to-cut materials