Products
Products
Our precise and durable carbide cutting tools are just
what you've wanted for an innovative tooling solution.


• The Solution for High-Precision Grooving
Feature
• KORLOY clamping system offers high rigidity for high precision machining

• High-quality cutting edge ensuring long tool life and excellent machinability

• Provides various cutting edge widths for a wide range of selection
K-Notch
The machining stability of cutting tools is a very important issue when machining hard-to cut materials used for aircraft, medical devices and precision machining parts. Specifically, machining hard-to-cut materials requires not only high-quality surface finish and dimensions accuracy, but also decent cutting life.
K-Notch holders feature the 3-face clamping design for high rigidity. The clamping force increases with the tightening force for clamp screws. They can minimize chattering even under heavy cutting load, providing long and stable machining life.
K-Notch inserts ensure high quality cutting edges with outstanding edge preparation. The mirror-like insert surface provides stronger resistance to welding and chipping for improved surface finish of workpieces.
KORLOY's K Notch offers a single holder type which can be easily clamped to a wide range of cutting edge widths so that it provides higher convenience to its users.
Advantages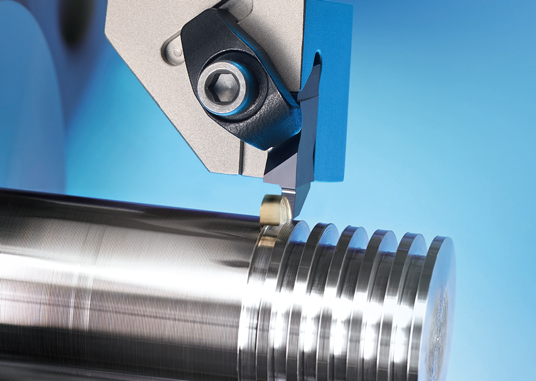 ㆍExtended tool life compared to the existing tools
- Ensuring long tool life
ㆍStrong clamping system
- High-rigidity clamping
- Minimized chattering
ㆍA simple tooling system
- A single holder type compatible with various inserts
- Convenient clamping using clamp screws
ㆍAdvanced edge preparation technology applied
- Cutting edges in uniform quality
- Excellent resistance to welding and chipping