Ürünler
Ürünler
Hassas ve dayanıklı sinterlenmiş karbür kesici takımlarımız, yenilikçi bir takım
çözümü için işte tam istediğiniz şeydir.

• The highly effcient and exclusive top solid indexable drill for steel-frame structures such as H-Beam, steel sheet, etc.
• Excellent centering and quality of hole due to optimal shape of cutting edge
Özellik
• High precision clamping system: High precision clamping due highly precise grinding and auto-centering
• Screw on clamping system: Easy to replace insert
• Edge design with excellent centering: Low cutting load and good chip control
• High durability holder: Improved wear resistance and durability with special surface treatment implementation
• Holder with good chip evacuation: Good chip evacuation and reduced cutting load with high helix angle
• Optimally designed oil hole: Long tool life
TPDB-H
Section shape steel used for constructions including hotels, hospitals, factories, offices and bridges is in demand continuously.
KORLOY launches exclusive top solid indexable drill, TPDB-H for drilling of steel-frame structure such as H-Beam, Angle, and Plate etc. according to the importance of section shape steel in the market.
TPDB-H insert with independent shape of double R point cutting edge ensures high quality surface finish even in vibrated machining due to its good centering and less cutting load.
In addition, the exclusive multi-layer PVD coating for drilling of steel-frame structure with high hardness and lubrication and surface treatment technology provide long tool life due to better chip evacuation and less wear on rake face and relief face.
The high helix angled flute of TPDB-H holders increases machining stability and productivity preventing vibration and unexpected fracture from chip blockage in drilling of thick workpieces.
TPDB-H will provide a rising solution for drilling of steel-frame structure.
Advantages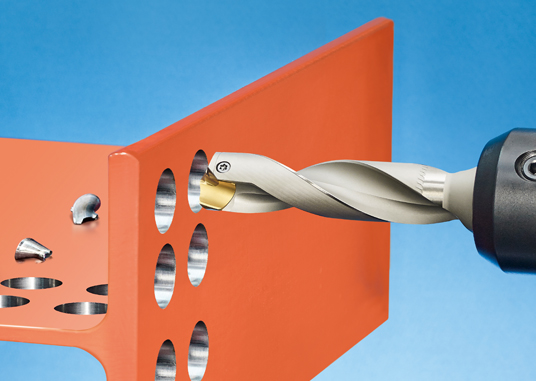 ㆍGood machinability
- Double R point cutting edge reduces cutting load.
- High helix angle realizes good chip evacuation.
ㆍImproved productivity
- New grade ensures long tool life.
- The special surface treatment improves holder durability.