Produits
Produits
Nos outils de coupe au carbure de haute précision et
durable vous apporteront les réponses
à vos questions d'usinage les plus pointues.


• Insert for ultra-precision automatic Swiss lathe machining(medium cutting to finishing)
• Highly precise grinding technology realizes sharp cutting edge and reduced cutting heat increases tool life and surface finish.
Caractéristiques
• Sharp cutting edge with welding resistance reducing the cutting heat is necessary for machining hard-to-cut materials.
• Chip evacuation is increased in low to high feed cutting conditions.
MS Chip Breaker
As industries keep being advanced, the demand for unmanned automatic lathe and machining hard-to-cut materials for small sized precise components have been increasing. Especially, pure titanium (Grade 3 and 4) and titanium alloy (Ti-6Al-4V) used for high precision parts such as implant are having poor machinability due to high cutting heat and welding which requires high precision and good surface finish.
KORLOY newly launched a chip breaker, ultra-precision MS for Auto Tools realizing high machinability in ultra-precision components such as implants made of hard-to-cut materials machining.
The MS chip breaker applied special 3D structured design to enhance chip evacuation function per variation of cutting depth and implemented high precise grinding process to actualize detailed nose R shape with sharp edge. With these, it could minimize cutting heat and built up edge occurrence while machining titanium.
It also prevents micro chipping by adapting ultra-fine substrate which equalized refined structure. Special surface treatment added PVD also ensures excellent surface roughness and enhanced tool life with high hardness and great anti-oxidation.
Besides, tight tolerance and deviation management in producing inserts for minimizing dimension deviations of corners and products provide convenience to users as it allows to users not to concern about tool offset in changing insert corners.
The MS chip breaker would provide the best solution to customers in necessity to precisely machine hard-to-cut materials with combination of premium level management in design, manufacturing, and quality, and grades matching like PC8100 and PC5300 having high hardness and thermal resistance.
Advantages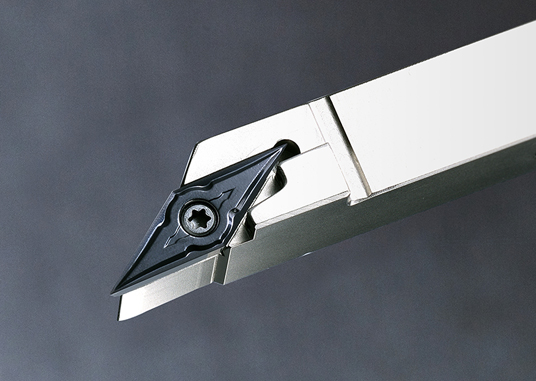 ㆍImproved chip control
- Excellent chip cutting and evacuation due to three-dimensional shaped design
ㆍBetter surface finish
- Mirror-liked finished cutting edge through special surface treatment
ㆍLonger tool life
- Ultra-fine substrate and high hardness coating
- Reduced cutting heat due to sharp cutting edge
ㆍHigh precise tool deviations
- Minimized dimension deviations for each insert corners and items