Produits
Produits
Nos outils de coupe au carbure de haute précision et
durable vous apporteront les réponses
à vos questions d'usinage les plus pointues.


• PVD Cermet for Steel Turning
Caractéristiques
• Stable cutting performance and good surface finish due to applying the PVD Lubrix- Tech™ and Edge-Tech™
• Coated Cermet grade optimized for medium and finishing Steel parts which requires high quality surface roughness
CC1015·CC1025
With its excellent surface roughness performance, Cermet is widely applied for medium cutting and finishing of various Steel parts in Automotive and Ship building industries and the tool life stability demand keeps increasing with the generalization of the unmanned line and automation of the facilities.
KORLOY launched new grades, CC1015 and CC1025 for various Steel (Carbon steel, Alloy steel, Sintered metal and so on) workpieces with the increased surface finish and cutting stability.
CC1015/CC1025 applied the exclusive Lubrix-Tech™ (high hardness lubrication PVD coating technology) and Edge-Tech™ (high lubrication cutting edge treatment technology) on the Cermet substrate with the high hardness surface and high toughness microstructure which functions inclination. It has excellent flank wear resistance and shows high quality surface roughness with its superior coating with welding resistance and chipping resistance especially when it does Steel Turning.
The CC1015 and CC1025 provide customers' higher productivity and cutting stability in finishing of Steel Turning.

Advantages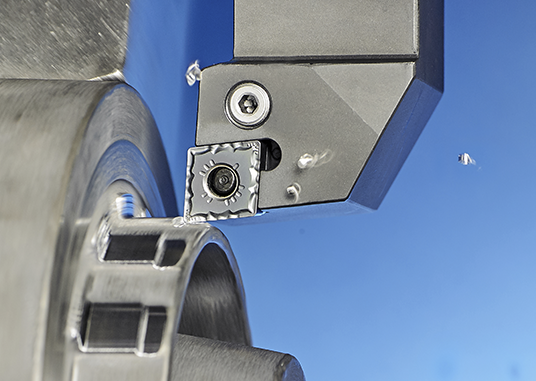 • High quality of surface finish
- Ensured high quality of surface finish and stable tool life due to applying exclusive Lubrix-Tech™ and Edge-Tech™
• Optimal for finishing of various workpiece cutting
- Optimal for medium cutting and finishing of automobile and ship parts from its excellent surface finish and stable cutting
• Applicable for non-coated Cermet range
- Available for cutting range of non-coated Cermet due to keeping surface finish from beginning of cutting to end of cutting