Products
Products
Our precise and durable carbide cutting tools are just
what you've wanted for an innovative tooling solution.


• PVD insert for general milling
Feature
• General use for all kinds of workpiece materials milling; P, M, K, H and S
• Long tool life and stable machining due to PVD Omega tech and Edge tech
PC5535

With active application of alloy, forging and heat treatment, recent metal materials and spare parts are getting stonger and harder. In addition, unstable clamping faces due to complex shapes of parts increases interupttion frequency so it is more often to experience vibration and chattering while machining. Under this circumstance, tool life decrease, differentiation in tool life, and decrease in machining quality are more commonly happening.
KORLOY launched PC5535 to provide high machining quality and stability with increased productivity in hard-to-cut material milling with unstable cutting conditions.
The PC5535, an optimal PVD grade for general milling, is applied general substrate with the balance of wear resistance and toughness is applicable for almost all kinds of workpieces, P, M, K, H and S.
The KORLOY's exclusive PVD fusion coating technology, 'Omega tech', uniting various components keep their own natural characteristics, optains various features like wear resistance, oxidation resistance, thermal crack resistance, built up edge resistance and chipping resistance and maximizes them. The high lubrication edge technology, 'Edge tech' prevents chipping from welding and unexpected fracture enhances stable tool life.
Through those technology, PC5535 ensures excellent performance in hard-to-cut steel and cast iron cutting from continuous to interrupted conditions. Also, PC5535 provides longer tool life and machining stability in high hardened steel, stainless steel, inconel and hard-to-cut materials.
Advantages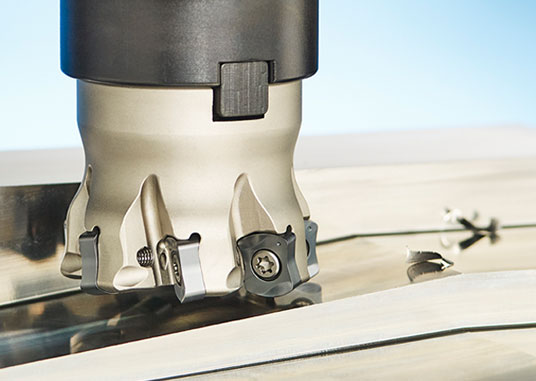 • General use for various workpieces
- Applicable for various kinds of workpiece materials; P, M, K, H and S
- Usable for special materials such as alloy steel, forged steel and heat-treated steel
• Enhanced cutting performance
- Maximized tool life and machining performance by applying exclusive PVD coating and edge technology
• Stable cutting
- Preventing unexpected tool breakage under heavily interrupted and vibrated cutting
- Enhanced tool life stability for each corner of insert
• Higher productivity
- Available for high speed and high feed cutting from improved product quality
- Various cutting rage from continuous to interrupted cutting