Products
Products
Our precise and durable carbide cutting tools are just
what you've wanted for an innovative tooling solution.


• TPDB Plus Drill for drilling workpiece with various shaped surfaces
Feature
• Cutting edge with 180° secures flat bottom.
• Reduced cycle time by least cutting process enhances productivity.

TPDB-F
There is always demand for excellent machining performance and reduced cutting time in many types of industries striving towards better efficiency, which has led to a steady increase in the growth of economical cutting tools.
KORLOY newly launched its indexable flat drill, TPDB-F, in response to current market trends, which is capable of increasing productivity by being able to work in different dimensions.
TPDB-F insert has an exclusive low cutting force for cutting edges, improving drilling stability and precision in machining and surface roughness.
In addition, TPDB-F ensures long tool life and stable machining with the use of ultra fine grain and lubricant coating.
TPDB-F has multiple machining capabilities which works on angled and curved surfaces, plunges and boring etc. It is advised, when machining, to have a pilot hole set up on a flat surface.
TPDB-F reduces the number of tools needed and the time needed for changing tools which would also eventually decrease the tool change cycle overall. It would become the next tooling solution for the high cost effeciency demanding machining market.
Advantages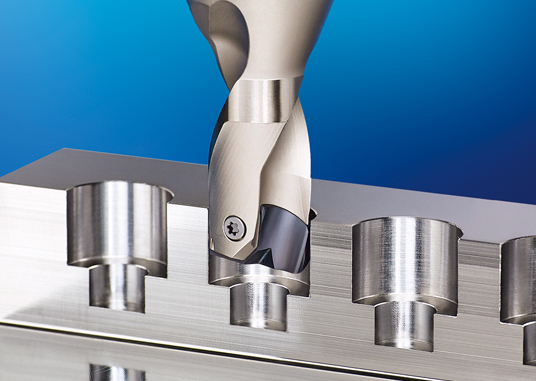 • Excellent machinability
- Cutting edge with 180° ensures more flat bottom of hole.
- Enhanced chip evacuation with high helix angle
• Increased productivity
- Reduced cycle time by using the least tools (TPDB-F)
- High durability due to special surface treatment