Products
Products
Our precise and durable carbide cutting tools are just
what you've wanted for an innovative tooling solution.


• A solution for parting and deep grooving
Feature
• Stable machining in deep grooving applying clamping system with strong three-way V-Rail
• Improving clamping precision and convenient replacing of inserts with using the exclusive wrench
Saw Man-X
The stable clamping system of an insert and a holder is the most important factor in parting and deep grooving due to vibration from long overhang, and narrow machining width making unexpected fracture of insert and breakage of holder.
Saw Man-X insert with specially designed cutting edge and concave three-way V-Rail of top, bottom and back face of it increases the clamping force and machinability. In addition, the optimal chip breaker and bump in the back area of insert reduce chip width effectively and minimizes scratch and chip rolling due to controlling chip radius.
Saw Man-X holder provides stable clamping even in high speed and high feed machining from strong clamping system due to convex three-way V-Rail having insert clamp tightly.
In addition, the independent self-clamping structure ensures stable clamping and durability of holder in machining with long overhang. The stopper in the back area and exclusive wrench increases precision of repeated clamping and make replacing insert easy.
Saw Man-X ensures stable quality of machining and, long tool life and convenient clamping system in high speed and high feed machining due to applying three-way V-Rail shape, new treatment on cutting edge, differentiated designed chip breaker and exclusive wrench. Through these advantages, Saw Man-X provides effective and economical solutions in parting and deep grooving.
Advantages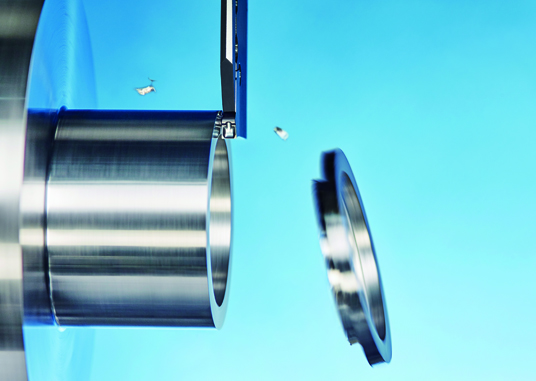 ㆍThree-way V-Rail structure
- Stable clamping system in high speed and high feed machining
ㆍSpecial treatment on cutting edge
- Maximized quality of machining and wear resistance
- Over 30% longer tool life than the existing tools
ㆍOptimally designed chip breaker and bump in the back area
- Minimized chip rolling and improved chip control
ㆍUsing the exclusive wrench
- More convenient replacing inserts