Products
Products
Our precise and durable carbide cutting tools are just
what you've wanted for an innovative tooling solution.


• Endmills for rough, medium to finish cutting of aluminum
Feature
• Optimized Solutions for Each Application Type
- A wide selection of tools provided for various machining processes

• Higher Machining Efficiency
- Advanced flute design and cutting edge technology applied
A+ Endmill
Aluminum, which is a non-ferrous metal, is softer and easier to cut, compared to other metals. However, a failure to properly evacuate chips that melted at high speeds can cause severe problems.
A+ Endmill features state-of-the-art sharp cutting edges and mirror-like flute surface to reduce cutting force and facilitate smooth chip flow.
APFE effectively evacuates chips even at high feeds using U-shaped flutes. The buffed flute surface inhibits build-up edges caused by molten chips. In addition, double relief angles improve productivity by enhancing edge rigidity while the sharp edges enable perfect cutting performance even in finishing. APFE also offers a variety of shapes including balls and flat type to expand the range of applicable workpieces.
AFE is a flat endmill that is more economical than other products. The sharp cutting edges and mirror-like flutes not only enable efficient machining but also meet the customer needs, supported by the wide line up.
RPAE is a roughing endmill optimized for rough milling applications. The blade design of wave form breaks chips down into smaller pieces and lowers cutting force. This helps to maximize productivity with reduced loads over equipment.
With this wide selection of tools ideally suited for many different machining types, A+ Endmill is the solution you've looked for in aluminum machining.
Advantages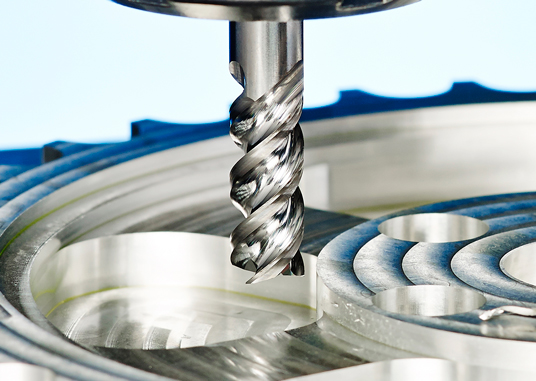 ㆍSharp cutting edges optimized for aluminum
- Lower cutting force
- Improved surface finish
ㆍMirror-like flute surface
- Maximized chip flow
- Reduced chip welding
ㆍA wide selection of line up
- Various product shapes including balls and flat type
- Ideal for high feeds, roughing, medium cutting, and finishing