Products
Products
Our precise and durable carbide cutting tools are just
what you've wanted for an innovative tooling solution.


• Milling grade specialized for milling applications of steel
Feature
• High Feed and Speed Capability for Increased Productivity
- Excellent chip removal rate per minute due to a tough substrate specialized for steel, and lubricative PVD coating of high-hardness

• Excellent Tool Life
- A highly chipping-resistant grade for minimized deviation and extended tool life under various cutting conditions
PC3700
In general, the relief and ramped surfaces of tools get easily worn out when milling steel at high speeds. Also, chipping and tool breakage problems are frequently caused in deep milling at high feeds. Often in high-speed continuous machining, plastic deformation occurs. On the other hand, thermal cracking occurs in interrupted machining at high speeds, or in wet applications. Both lead to extremely reduced tool life. In addition, build-up edges tend to be formed when machining easily welded workpieces, which decreases tool life and lowers surface finish of workpieces. As such, it is hard to expect the life of insert considering various machining factors when it comes to the milling applications of steel.
KORLOY newly developed PC3700, a unique milling grade specialized for steel to provide advanced performance and satisfactory efficiency. Compared to the existing PC3500 and PC3600 grades, the resistance of PC3700 to chipping and breakage has been significantly improved, and it ensures extended tool life as well as high productivity and stability.
The PC3700 features hard and lubricative coating with smooth surface so that chips can be evacuated easily at high speeds, and the wear of ramped and relief surfaced will be significantly reduced. It also has minimized build-up edge issues to prevent chipping and improve surface finish. As a highly tough substrate specialized for steel cutting, PC3700 inhibits thermal cracking in the interrupted or wet machining process. Furthermore, it provides great chipping and breakage resistance at high depth of cuts and high feeds, or under heavy cutting loads including pre-hardened steel machining.
PC3700 provides outstanding machining efficiency and production stability due to the stable tool life for every milling process from high-speed, high-feed and deep machining to continuous or interrupted machining of various steel workpieces.
Advantages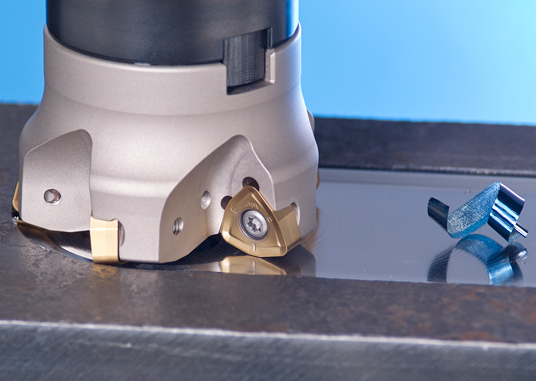 ㆍLonger tool life and high removal rate
- High cutting conditions and shorter cutting time available
ㆍ Stable tool life
- Higher production stability
ㆍUniversal use for steel milling
- A wide selection of workpiece materials and applications