Products
Products
Our precise and durable carbide cutting tools are just
what you've wanted for an innovative tooling solution.


• Optimized economical grooving tool
• Multi-functional machining with strong clamping system
Feature
• Strong clamping system
- Strong clamping system ensures stable and accurate machining

• Wide selection of chip breakers
- Wide selection of chip breakers ensures excellent chip control in various applications
EKGT
Cutting and grooving speeds are getting faster to improve productivity while higher machining quality is required to optimize the process. It was difficult to meet these requirements as the thin and long shape of grooving inserts caused vibration and reduced chip evacuation during operation, which resulted in early wear or breakage of tools.
The EKGT has an excellent 'V' type clamping system and a serrated shape on the clamping area so that it effectively minimizes vibrations. This results in improved stability and performance for highly efficient machining.
EKGT holders provide a total tooling solution with a wide selection for external / internal diameter machining, parting off, copying, auto lathes and relief machining.
KGT chip breakers are ready for a variety of workpieces and a wide application area with its characteristics of excellent chip evacuation for quality surface finish and high precision.
Advantages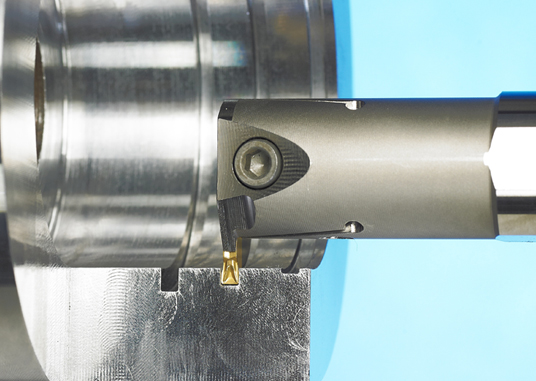 ㆍWide selection of chip breakers
- Excellent chip control
ㆍVarious holder applications
- Optimized machining solution
ㆍStrong clamping system
- Stable and precise machining
ㆍStable tool life
- Higher productivity