Products
Products
Our precise and durable carbide cutting tools are just
what you've wanted for an innovative tooling solution.


• 3-corner grooving & parting tools for high speed, high feed and interrupted machining
Feature
• Machining stability
- Strong clamping prevents tool vibration to produce high quality finishes and longer tool life

• Chip control
- Stable chip control boosts productivity at high speeds and high feeds
TB/TB-M
Machining small components requires high productivity tools that are capable of high speed and high feed work. These tough cutting conditions often involve high spindle speeds over 2,000 RPM. These high speeds cause vibrations of the spindle, and the cutting tools are negatively affected by the vibrations.
Grooving and parting inserts normally have thin and narrow cutting edges, which leads to tool vibration at high speeds and feeds. Such vibrations can cause decreased level of surface finish, dimensional changes, and shortened tool life. Clamping stability and improved rigidity of the cutting edges are essential to cutting performance.
TB/TB-M Series was designed to have wide supporting areas along the outer edge of the equilateral triangle-shaped insert, to maximize clamping stability. A double clamping system, using both a clamp and screw, also enables stable machining at high speeds, high feeds, and high interruptions. Additionally, its specialized chip breakers help to minimize cutting force and improve chip evacuation, which results in excellent surface finish.
TB Series is a combination of grooving and parting tools that can boost your productivity with its high stability at high speeds, high feeds, and high interruptions.
Advantages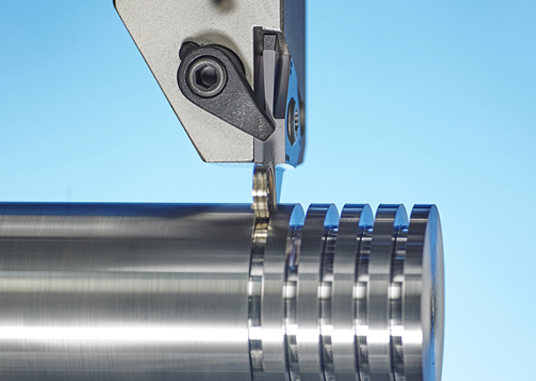 ㆍA strong and sturdy clamping system
- Prevents tool breakage by reducing vibrations
ㆍAn optimized chip breaker shape
- Improves chip flow and provides excellent tool life and quality
ㆍA wide selection of cutting edge width
- Enables precise finish machining
ㆍEconomical 3-corner inserts
- Offers three blades available