Products
Products
Our precise and durable carbide cutting tools are just
what you've wanted for an innovative tooling solution.


• CVD coated turning inserts for stainless steel
Feature
• Increased productivity
- Extended tool life at high speeds, feeds, and depths of cut

• Comprehensive use
- A wide grade lineup for most workpiece sizes and types, including heavy interruption (NC9115 / NC9125 / NC9135)

• Solutions for most common issues in stainless steel machining
- Prevents built-up edge, notch wear, plastic deformation, and burr creation
MM · RM Chip Breaker
The reason Stainless Steel is often considered a hard-to-cut material is its large shearing resistance that can easily cause work hardening, built-up edges, and edge fracture. Its combination of tough and hard material characteristics require the prudent selection of grades and chip breakers. These challenges led KORLOY to develop the CVD coated turning grade series, NC9115 / NC9125 / NC9135 along with new chip breakers MM (for medium cutting) and RM (for roughing). The NC9100 Series can solve most Stainless Steel machining problems with its combination of three layers – the top coat protects against welding, the coating layers protect against wear even at high speeds over 150m/min, and the tough substrate against chipping.
The MM chip breaker for medium cutting is the 1st recommended for stainless steel. Its dual angle land design allows for both sharp cutting performance and strong cutting edges, which promotes extended tool life and minimized cutting force and built-up edge. In addition, wide chip pockets prevent chips from interrupting the minor cutting edges and instead lets the chips out of the cutting area. These chip breaker features help prevent plastic deformation and excessive wear.
The RM chip breaker for roughing is recommended in rough machining and in cases where burrs are an issue. It has a wide land and rake angle lowering cutting resistance. Cutting heats can flow around the gentle slope of rake surface and can be effectively dispersed and evacuated at high feeds and high depths of cut.
Advantages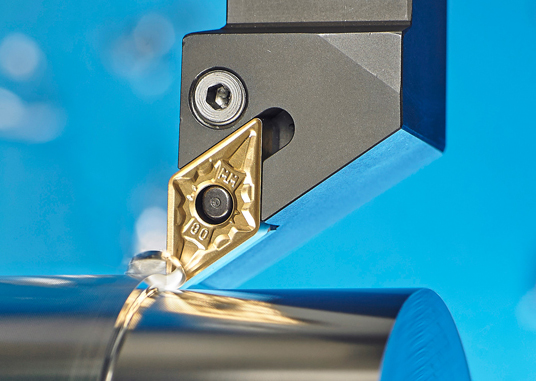 ㆍSolving the four main issues in stainless steel machining
- Prevents built-up edge, notch wear, plastic deformation, and burrs
ㆍStable tool life at high speeds, feeds, and depths of cut
- In case of STS316, high speeds available over 150m/min
- High chip removal rate for higher productivity
- Shortened cutting time due to higher cutting conditions
ㆍI deal combination of grade and chip breaker
- Stable tool life
- Applicable to a wide range of applications from roughing to finishing
ㆍVersatile applications for different workpiece materials
- Machining of various workpieces such as austenitic, martensitic and ferritic stainless steel