Products
Products
Our precise and durable carbide cutting tools are just
what you've wanted for an innovative tooling solution.


• High speed aluminum milling tool
• Improve tool life up to 20% through direct spray cooling and enhance productivity through reduced setting time
Feature
• Improve tool life up to 20% with a coolant system that enables direct spray cooling to cutting blades.
• Enable high feed milling by increasing the number of cutting blades by 20% through a simply structured coupling method for clamps
• Reduce setting time up to 40% by applying a spanner adjustment method
• Introduce an aluminum cutter body to provide a superior cutting performance during high speed milling.
Aero Mill-Plus
In the case of the adjustment method for conventional blades, inserting a wrench into the small groove of the adjustment screw for fine-tuning made it difficult for operators to adjust in dark environments, such as at night. The wrench that fits to the small groove also has weak stiffness, thus making it easy to become bent.
As a result, the concept of a spanner was introduced to allow for more convenient adjustment to ensure adjustment in dark environments and increase the rotation angle with an operator-centered approach.
In addition, components were simplified, securing the maximum number of blades for productivity improvement.
This resulted in up to 40% reduction of setting time compared to the previous method.
Aside from this, in order to address risks following the simplification of components, the structure was supplemented to prevent the blades from departing in the cutter rotational direction in the event of damages that may have occurred on the screws for fastening blades or other problems, while it was rebuilt to flow up and down with the direction of the cutter.
Aero Mill-Plus integrated the chip cover and the blade. To improve the chip interference on the chip cover and PCD life, a direct application system was applied, and it increased the life of the cutter by up to 20%.
Advantages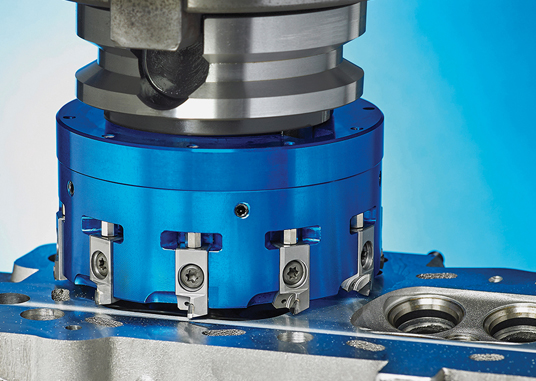 ㆍSpanner adjustable system
- Spanner adjustable system for 1㎛
ㆍDirect coolant system
- Improve tool life by directing coolant to cutting blades
ㆍBlade with simple clamping system
- No chip cover
- High pitch available
ㆍLight coolant bolt
- Exclusive light coolant bolt
- Tool weight 30% save