Products
Products
Our precise and durable carbide cutting tools are just
what you've wanted for an innovative tooling solution.


• Future Mill Series for Mold Making
Feature
• Stable clamping system
- Wide and curved clamping area and flat anti-rotating area prevent rotation and damp vibration to provide stable machining and increase productivity

• Enhanced rigidity
- P-positive relief angle(11°) exhibits higher rigidity and excellent machining for high hardness mold steel and heat-resistant alloy

• Wide application range
- A wide line up of grades and chip breakers for all machining
FMR P-positive
There is a growing interest in fashioning cutting tools for mold making that can be both cost effective and capable of excellent delivery. In its current state, the mold making industry has a range of applications spanning shouldering, facing, slotting to plunging. The downside of all these assorted tools is the risk of compromising productivity and cost efficiency if they were to be replaced individually. It is with this in mind that the FMR P-positive comes to the rescue because of its purpose built capacity to work through high hardness mold steel and heat resistant steel in rough milling. This unique feature is what distinguishes it from the existing FMR D-positive.
The FMR P-positive is available in most applications. In case of dealing with cut depths of less than 0.039inch depth, cutting angle is formed under 15° for high feed milling. It also has high depth cut capabilities of up to half the insert size(0.157~0.394inch). High depth cut and high feed machining allow for increases in productivity. That is because high feed tools form thinner chips in the same feed condition, which helps reduce cutting force. The FMR P-positive would be an ideal choice, particularly when you want to improve productivity or use low horse power.
The New FMR P-positive inserts are a comprehensive cost effective device. It features reinforced rigidity by applying a relief angle of 11°. Relief surfaces of 18° have been included to prevent interference by feeds. 4 to 8 out of the relief surfaces are isotropic designed to provide a large relief angle around the circumference, to prevent anti-rotating often resulting from machining with the R-type insert.
In mold making, a shank type that has a long body of a large aspect ratio over 2D is commonly used. The large aspect ratio is vulnerable to tool vibration even under low cutting load that may even result in tool breakage in extreme cases. To resolve this problem, the FMR P-positive forms a negative axial rake angle. With the use of the negative angle, both wear on rake surfaces and the contact area on workpieces are reduced to minimize tool vibration.
The FMR P-positive also results in increased effective diameter and faster cutting speeds (In case of ø32-6R, 1.6 times faster), and a wider turning radius. All of these will lead to stable machining right from the onset even when dealing with a ratio of 6D in order to finally deliver higher productivity.
Advantages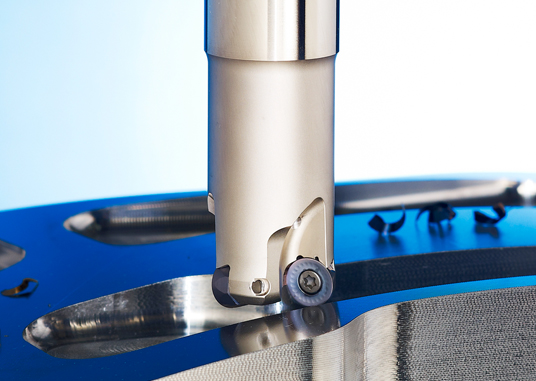 ㆍHigh Feed, High Depth of Cut
- Increased productivity by reduced production time
ㆍStable Clamping & Anti-rotating System
- Damped vibration and extended tool life
ㆍHigh Rigidity Body Shape
- Stable machining and tool life in high hardness mold steel and heat-resistant alloy machining
ㆍA Variety of Chip Breakers and Grades
- The harmony between various chip breakers and grades meets a wide application range of workpieces