Products
Products
Our precise and durable carbide cutting tools are just
what you've wanted for an innovative tooling solution.


• Endmill for high hardened steel machining at high speeds
• For cutting high hardened and heat-treated steel under HRC70
Feature
• Increased wear resistance
- The new coating technology improves wear resistance

• Improved cutting performance and productivity
- The new shape boosts productivity due to high speed and high precision machining

• New grades applied (PC303S, PC310U)
- Ultra fine substrate + AlTiSiN coating layer for excellent wear resistance

• High accuracy with tolerance -h5
– High quality production system enables tolerance-h5 through the whole series
H Endmill
High hardened & heat treated steels (HRC 45~70) used in parts for automobiles and molds offer excellent durability and effective wear resistance. This hardened steel material apparently causes massive tool wear on relief surface involving high temperatures in high speed and dry machining. Additionally, large impact during machining results in chipping and tool breakage.
The H Endmill is specifically designed for machining high hardened & heat treated workpieces, complemented with an ultra fine substrate and a newly invented AlTiSiN coating layer. It features good adhesion on coating layer and excellent resistance to wear at high temperatures. As a result it improves tool life by delaying coating flaking at high speed and dry cutting conditions.
Thanks to the negative rake angle, blade design for low cutting load and special edge treatment, chipping resistance has significantly been improved to enable stable machining without edge breakage.
The H Endmill boosts tool life by more than 20% compared to previous products, delivering higher wear resistance and optimum tool geometries that suit machining high hardened & heat treated materials.
Advantages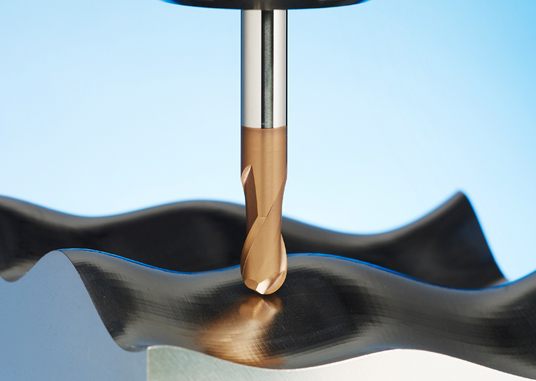 ㆍUltra fine substrate and a new coating technology
- Higher wear resistance
ㆍBlade design for low cutting load and special edge treatment
- Prevent chipping and tool breakage
ㆍFor machining a high hardened & heat treated workpiece at high speeds