PR Center
PR Center
World best in the metal cutting industry
as we create shared values.
[K Notch] New Inserts for high-precision grooving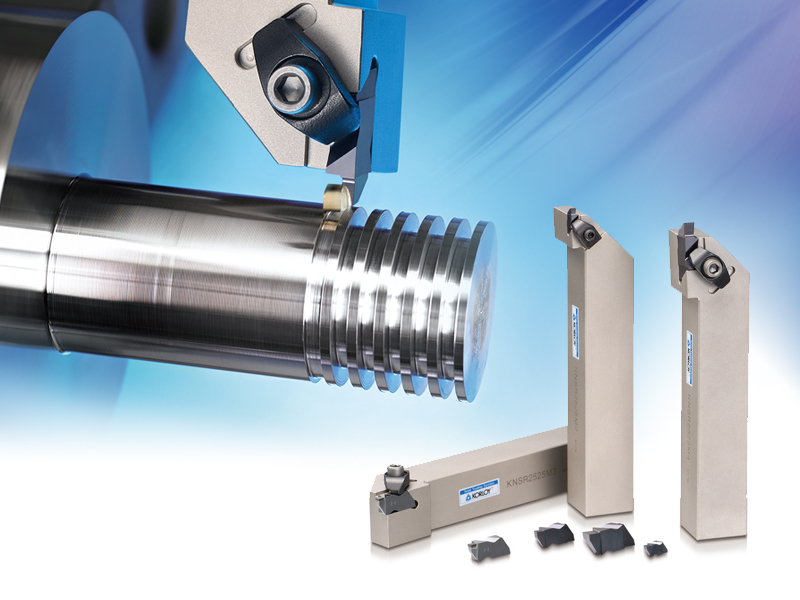 KORLOY launched K Notch, inserts for high-precision grooving with high-rigidity clamping design.
The machining stability is a crucial issue when machining materials which are used for aircraft, medical devices and precision machining parts due to its excellent strength at high temperature and low heat conductivity. When cutting these kinds of hard-to-cut materials, lack of machining stability leads to problems such as reduced surface roughness, inadequate dimensions accuracy, and chattering.
K Notch inserts feature excellent clamping stability due to its clamp at the rake surface and the 3-face (bottom, side, and rear face) binding.
The clamping system ensures outstanding machining stability as the clamping force increases with the tightening force for clamp screws.
K Notch inserts fall into five categories according to cutting-edge design: KNG (rake surface: flat), KNGP (rake surface: positive type), KNR (rake surface: flat+round), KNRP (rake surface: positive+round), and KNB (blank). When cutting, the max. depth of cut is 6.35mm and cutting edge width can be varied from 0.79mm to 6.35mm. Furthermore, it offers a single holder type which can be clamped to various shapes and cutting edge widths, so that it provides higher convenience for users when choosing tools.
K Notch inserts provide stronger resistance to welding and improved surface roughness due to excellent edge preparation and the mirror-like rake surface. Applied PC5300 and PC8110 PVD coating, inserts can be used for machining of numerous workpieces including steel, stainless, cast iron, non-ferrous metals, and HRSA.