PR Center
PR Center
World best in the metal cutting industry
as we create shared values.
[UNC Grade] UNC805 and UNC840, CVD Ultra Coating grades for machining of HRSA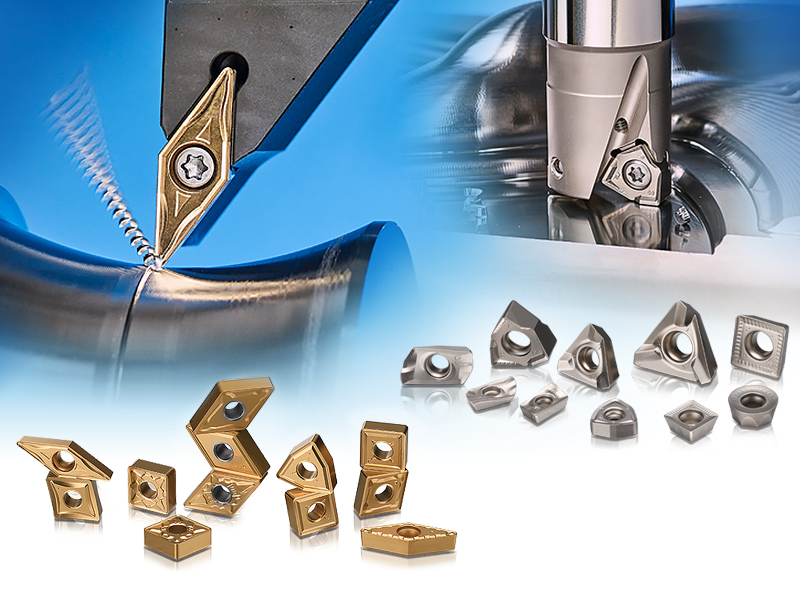 KORLOY has released the new CVD Ultra Coating grades specialized for machining HRSA- the UNC805 and UNC840.
Materials like Inconel (Inconel, Waspaloy, Rene), Titanium alloy, and HRSA (Heat Resistance Alloy) can be used at high temperature from 700℃ to 1000℃. Due to its characteristics, it is commonly used in the aerospace industry. This HRSA features exceptional resistance to heat and corrosion, and great pull out strength. However, it has been categorized as a difficult-to-cut material because it imposes a severe strain on tools in the machining process. Workpieces, which are used in the electricity generating industry and oil & gas industry, are also considered as hard-to-cut materials.
These hard-to-cut materials cause work hardening and have low heat conductivity. Because of poor heat evacuation, they also affect tools and frequently result in shorter tool life due to chipping, build-up edge, and unexpected tool breakage. In order to provide a solution for HRSA machining, KORLOY has released the new Ultra Coating grades with improved resistance to welding, chipping and wear – UNC grade.
The new UNC grade has an enhanced resistance to chipping and breakage with the super toughness substrate design. In addition, applying new CVD-Ultra coating, it provides stable tool life preventing any unexpected tool breakages in HRSA machining process.
UNC805 is a S05 grade for turning. It ensures great surface finish under high-speed machining condition due to its excellent wear resistance by implementing ultra fine substrate and optimized cutting edge.
UNC840 is a S40 grade for milling. With stronger WC-Co binding, its wear resistance is also increased. Further, the feed value of cutting process can be applied 1.5 times higher than the existing products due to improved toughness. With these features, UNC840 can maximize productivity.
When it comes to turning or milling of HRSA hard-to-cut materials, KORLOY's premium UNC grade can ensure high efficiency and stability with improved resistance to wear and chipping at high temperature.